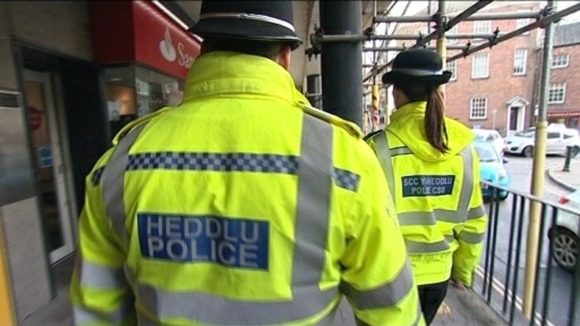 Hamish Sandison, Labour's candidate for Police and Crime Commissioner for Gwent, and Wayne David, Labour MP for Caerphilly, have visited Graig-y-Rhacca in Caerphilly.
Following a public meeting which had been called to discuss anti-social behaviour on the estate, last week Wayne David raised the issue of anti-social behaviour in Graig-y-Rhacca on the Floor of the House of Commons.  On Friday 26 October, he accompanied Hamish Sandison to meet local people in Graig-y-Rhacca.

A number of local people met Hamish Sandison and Wayne David and explained to them the problems they were facing from a relatively small number of youngsters on the estate.  Hamish Sandison assured them that tackling anti-social behaviour must be one of the police priorities for Gwent.  He told the residents that if he was successful in his candidacy for Police and Crime Commissioner, then he would ensure that the voice of the residents of Graig-y-Rhacca was heard.

After the meeting, Hamish Sandison said,"We had an excellent meeting and I was very impressed that the residents I met are determined to create a better community.  The anti-social behaviour of a small number must not be allowed to spoil the quality of life for the vast majority.  The tackling of anti-social behaviour must be a police priority - now and into the future."

MP Wayne David said,"It is important that the voice of local people is heard.  The residents of Graig-y-Rhacca should not have to put up with anti-social behaviour from a small minority.  I hope to be able to work with Hamish Sandison to tackle this problem."